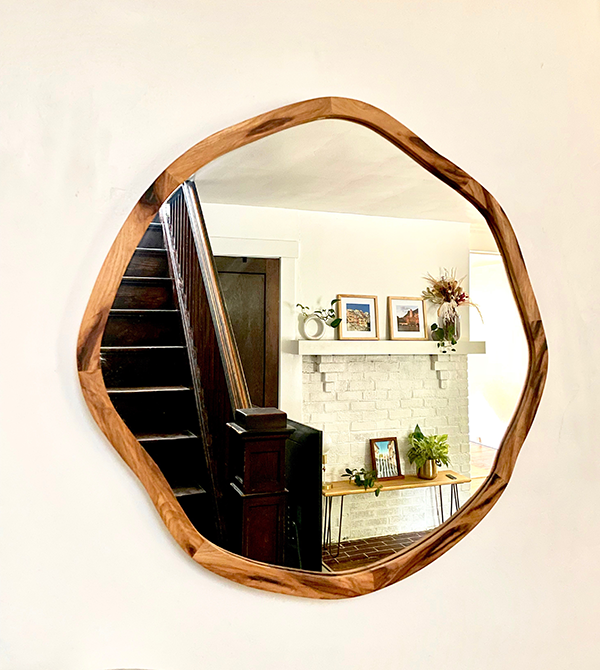 From Geometry to Organics
Al has had organic shapes in her sights for quite some time. Shapes that look almost effortless in form, but more difficult to achieve than any geometric shape. 
We got our hands on some beautiful character grade hickory thanks to our neighbor and fellow woodworker Steve Orkis. Hickory is a very hard wood with dramatic knots and abrasions streaking through. Character grade eliminates some of the knots but ensures structural integrity for building. Using this kind of hickory on the mirror ensures a strong frame while also showing off the natural beauty of hickory.   
Cutting the glass was always the largest hurdle in this project. Al's mirror and glass cutting has grown into a very strong skill. Free hand cutting was her next step in her evolution of this art. Practice led to fluidity and confidence to start the project.  After a few tries Al found a shape she felt best represented fluid motion but a proper crosscut of a tree. Once she determined how she wanted to cut it, she nailed it! First. Try. 
The marriage of the hickory and mirror was exactly what we were going for. The imperfect shape juxtaposes against the rugged surface of the hickory. 
We wanted to keep some of the lighter knotted areas exposed. The larger cracks and knots were filled with Starbond, a fast drying product perfect for small imperfections in wood. 
We are very pleased with the results. The product finishes beautifully with tung oil and a layer of Odie's Wood Butter. 
We have limited quantities of this hickory. After that we will move this design into walnut and maple. We expect to make approximately 20 of these mirrors.