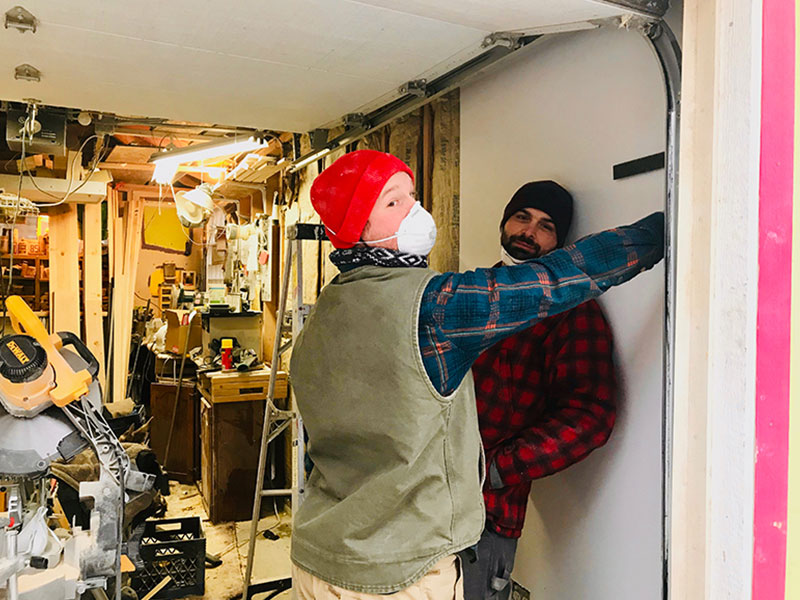 Thus begins the adventure of Dot and Rose, in blog form. We come to you as a husband and wife team from a woodshop on the bank of the Ohio river. The sun is reflecting off the water, warming us as we work on products. It is a peaceful existence, at least while I write this short note.
In all honesty, we lead live's that can be categorized as some sort of controlled chaos. It is more control than chaos, but being a set of lonely entrepreneurs, chaos is something we attempt to live elegantly with. We accept it, because we love what we do.
What we do is make stuff. We have made stuff for over 5 years, and now that stuff is controlled and has become more than stuff. We find ourselves on this river bank making mirrors and frames out of mostly maple and ash wood. We play with contemporary design, we are inspired by mid century form, flirt with minimalism, ensure functionality, and strive for congruency.
It was a long, strange road from stuff to our current products. We moved to Chicago in 2014, and after almost 6 years in Chicago, we knew two things: we wanted to have control of our own lives professionally, and we wanted to create. Al is a natural creative, and we both have eyes for styles, trends, and fashion (I have the better eye some would say).
With this in mind we rented a one car garage with our former business partner, Nate, in Chicago. We probably should have started Google or Apple, but Dot and Rose ain't too bad. We spent every day there, enduring winters with 3 levels of clothes on and summers begging to take any morsel of clothing off. We peed in a bucket and we changed in front of each other. It was like a hip, safe, creepy, artistic, stale locker room, laboratory, and workshop all in one. It was also painted like a watermelon, which always added a little something to the back of our unconscious creative minds.
From this garage came our first real product, at home aquaponic tanks. We built the structures out of wood and made our own fish tanks out of acrylic. We eventually got a contract with Chicago Public Schools to install these units in classrooms. Nate is now a Chicago Public School teacher and still tinkers and creates several types of aquaponic systems. For Al and I, we started making small wooden objects that centered around plant life.
Our first product was a hanging planter, poplar wood and sisal string used to hold a mason jar. Damn cute little things. The sales started trickling in so we continued down the path of plant based home goods. The plant stand, which we made in 4 sizes, was the product responsible for getting us out of a one car garage and into a real woodshop. It also pushed us fully into home goods.
At the new shop we created new products and started to build a brand. We learned to cut glass and bought a CNC machine. Those two facets of the business eventually allowed us to blossom into the company you see today. We fell in love with the process and never looked back. I now am responsible for the early construction of the products while Al finishes and cuts all glass.
We are finding our groove and establishing a brand we love. We want to make the modern home complete with high-quality real hardwood mirrors. Mirrors are too often sold for cheap and made from low quality materials, resulting in throw away pieces.. We want to change that by injecting pride and passion into our products, ensuring our customers are confident their piece will last the test of time.
Without any further ongoings, we want to say thank you to all of our supporters and welcome to all newcomers. Always feel free to message us, we love custom projects and working with quirky cats with strange ideas.
With Love,
Trav and Al
Dot & Rose